What You Didn't Know You Were Missing This Thanksgiving: Clean Air
What You Didn't Know You Were Missing This Thanksgiving: Clean Air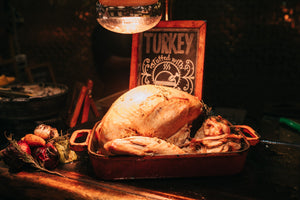 Same routine, different Thanksgiving. Wake up, watch the Macy's Parade, then start cooking. Since most of the day is spent in the kitchen preparing the meal, the last thing you want to think about is keeping the indoor air clean for your family and friends. An air purifier can be the perfect solution to this. 
We have the top reasons you need an air purifier in your home for Thanksgiving this year:
Neutralize Odors
While your food may taste delicious, even the best cooking causes odors. An air purifier that is equipped with a coconut carbon pre-filter can help neutralize odors from cooking and keep things smelling fresh all day. 
Allergy Relief
Allergens in the air are inevitable, but an air purifier helps reduce them tremendously. Air purifiers featuring a True HEPA filter can remove up to 99.97% of airborne particles as small as 0.03 microns. This includes pet dander, dust and mold spores causing congestion and allergy flares, so your family can get back to the important task at hand, eating. 
Minimize Smoke Relief
With all this cooking comes the potential for a lot of smoke, especially if you have some family members who are less than talented in the kitchen. An air purifier with True HEPA filtration removes even the tiniest smoke particles from the air, keeping your home fresh and clean.