True HEPA Filtration Helps Protect Against the Coronavirus
True HEPA Filtration Helps Protect Against the Coronavirus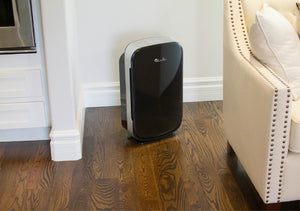 Running an air purifier can protect your family from COVID-19, especially as people start spending more time indoors this fall. 
According to the CDC, coronavirus most often spreads from person-to-person contact, but it can also be spread by airborne transmission. Air purifiers can capture most of those particles with a True HEPA filter. 
True HEPA is the only filter that removes up to 99.97% of airborne particles as small as 0.3 microns. According to Stanford researchers, coronavirus particles range from 0.08 to 0.16 microns in size. However, these single virus particles tend to form larger particles, which are able to remove. So, in the right circumstances, air purifiers offer an additional layer of protection against the coronavirus. 
It is important to note, while an air purifier can help slow the spread of coronavirus, it will not eliminate it. Along with the use of an air purifier, you should also continue to practice social distancing, wear protective face masks and follow other guidelines set by the CDC.
Click here to shop our favorite True HEPA air purifiers.