Keep Your Air Clean While Holiday Decorating
Keep Your Air Clean While Holiday Decorating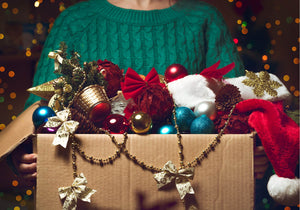 This holiday season looks a little different than previous years. Since many of our holiday traditions cannot happen this year, more people than ever are decorating their homes to celebrate the season. However, getting your old decorations out of storage can negatively impact your indoor air quality. Here are some tips on how to decorate safely while reducing harmful particles in your home's air.
Clean Your Decorations
Your holiday decorations most likely collected a lot of dust while being stowed away all year. Dust mites are one of the major indoor triggers for people with allergies and asthma. The number one way to alleviate dust mite allergy symptoms is to reduce the amount of dust in your home. Wear a mask and gloves while getting your decorations out of storage. Use a damp cloth for dusting to limit the amount of dust in the air. You can also clean the air in your home with a True HEPA air purifier, which can remove up to 99.97% of airborne particles including dust mite debris.
Skip the Artificial Christmas Tree
It's best to opt for a real Christmas tree during the holiday season. Artificial Christmas trees are made up of a plastic material that can break down overtime, releasing dangerous particles into the air. Real trees can naturally clean the air and give off a fresh pine smell.
Ventilate the House
Your home can house many indoor pollutants dangerous to your health. Air purifiers featuring a True HEPA filter can remove up to 99.97% of airborne particles as small as 0.03 microns. This includes pet dander, dust and mold spores causing congestion and allergy flares. It's also important to replace your HVAC filter regularly to help keep your indoor air clean. If you have a wood-burning fireplace make sure to have it professionally swept and inspected each year before using.