How to Change Your Molekule Air Filter
How to Change Your Molekule Air Filter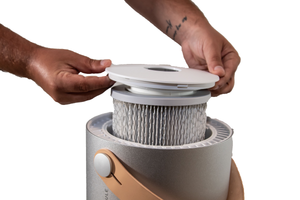 Your MoleKule Air Purifier is made to destroy pollutants in large rooms, but over time all of those particles and allergens get trapped in the filters, slowing it down. It's important to change your filters, to help the clean air pass through efficiently. For Filter Monster replacement filters compatible with your MoleKule Air Purifier click here.
How your Molekule Air Purifier Works:
The air purifier uses two filters, each with a specific purpose:
Pre-Filter: Removes VOCs (volatile organic compounds) and household odors from cooking, cleaning, smoking and pets
True HEPA Main Filter: Eliminates 99.97% of airborne particles as small as 0.3 microns including smoke, dust, pollen, pet dander, mold spores and dust mite debris
When to Replace your Filters:
You should replace your Molekule Air Pre-Filter every 3 months, and the True HEPA Main Filter every 6 months. You can check the status of your filters on your air purifier's touch screen, or on the mobile app.
How to Replace your Filters:
Step 1

: 

Unplug your air purifier.
Step 2: 

Open your air purifier to access the filters by pressing down on the top and rotating counter-clockwise.
Step 3: 

Lift the top lid to take the True HEPA Main Filter out of the purifier.
Step 4: Pull off the old filter from the lid, and insert a new filter in its place. Throw away the old filter.
Step 5: 

Place the lid back into the purifier, and twist counter-clockwise to secure.
Step 6: Pull out the tray at the base to take out the old pre-filter. Throw away the old pre-filter.
Step 7: 

Insert a new Pre-Filter in its place, and reinsert the tray into the device.
Step 8: 

Close the air purifier by pressing down on the top of the device and turn clockwise.
Your Molekule Air Purifier is ready to get back to work.
Filter-Monster Customer Care