HEPA Air Purifier for Allergies
HEPA Air Purifier for Allergies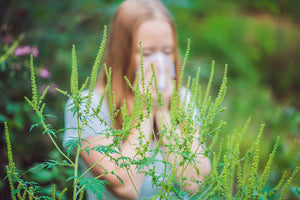 If you search Google for a True HEPA Air Purifier for allergies, you are going to be searching for days to find the best air purifier for your exact needs. Every brand advertises that they have the best air purifier to remove allergens from your home but it's important you do your research to find the best bang for your buck. 
In this blog post, we'll explain some of the most common terms you'll find while looking for air purifiers, and some of the air purifiers we think will work best to fight allergies. 
HEPA Terminology
Pet dander, mold spores, and dust mites are just a few of the common allergens that trigger allergy symptoms. True HEPA filtration is beneficial to fight off these allergens. Allergen particles tend to be smaller than other particles, and a True HEPA filter can capture particles as small as 0.3 microns. A True HEPA filter is the best way to battle allergies with an Air Purifier. 
So, what is HEPA? High-Efficiency Particulate Air Filters (HEPA Filters), is an efficiency standard for air purifier filters. According to the DOA, True HEPA filters must remove 99.97% of airborne particles as small as 0.3 microns passing through the filter. When a brand uses "True HEPA", you can feel confident that the air purifier will do its job and remove the tiny particles floating around your home. 
You may see brands use terms such as "HEPA-like" or "HEPA-type." While these filters appear to be similar to True HEPA filters, they are not standardized and cannot match the performance of True HEPA filters.
HEPA-Type filters don't typically disclose the size of the particles being filtered. They may claim to filter 99.9% of particles, but they don't say how small those particles are. They may only filter out larger particles, but allow smoke and mold spores to get through and enter the air in your home again.
Our Recommendations
We've put together a list of our favorite air purifiers that will help you battle your allergies: 
If you have a large home or open concept layout, this is the air purifier for you! It can clean the air in spaces up to 1,500 square feet in size by capturing particles from the air including smoke, pollen, dust, pet hair and dander, mold spores and other airborne particles.
Features:
True HEPA filter 

Coconut carbon pre-filter 

4 fan speeds

Soft-touch digital control panel

Sleep mode

Timer

Filter replacement indicator

Accent light
The latest air purifier from Hunter is perfect for small spaces and its even portable to take along with you on your travels. Its unique 360-degree air intake makes sure no air escapes uncleaned!  
Features:
3-stage filtration: EcoSilver® & coconut carbon pre-filter, True HEPA filter

360-degree air intake

3 fan speeds

Soft-touch digital control panel 

Sleep mode 

Timer 

Filter replacement indicator

Accent light
Clean the air in a 200 square foot room over 57 times a day with this Whirlpool air purifier! True HEPA filtration eliminates up to 99.97% of the tiny particles triggering your indoor allergies. 
Features:
True HEPA filter 

Carbon pre-filter 

3 fan speeds

Sleep mode

Timer

VOC sensor