Get Your Gift On: LivePure Blade Tower Fan
Get Your Gift On: LivePure Blade Tower Fan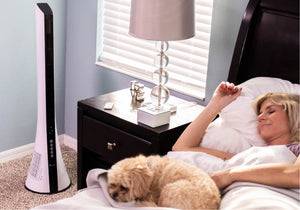 Here at Filter-Monster we want to help you get your gift on this holiday season. Through Dec. 24th we're offering 20% off the LivePure Blade Tower Fan with code GIFTFAN.
How the Blade Tower Fan Works
The LivePure Blade Tower Fan will leave you feeling fresh while staying inside this winter. The bladeless fan creates a powerful, even stream of airflow with 45-degree oscillation. Without the fast-spinning blades of other fans, it is great to use around kids and pets. The tower fan's blade-free construction also prevents dust build-up. 
The Blade Tower Fan Features
The bladeless air system features 3 speeds: sleep, natural and normal. In normal mode the wind speeds will be constant. In natural mode the wind speed will switch between low, medium and high speed. In sleep mode the wind speed will begin strong and gradually reduce in intensity. The fan also features a timer with 1, 2, 4 or 8-hour intervals. There is also a soft touch control panel and a remote that controls speeds, oscillation, timer, and mode from across the room. With its sleek, modern design the Blade Tower Fan is the perfect gift this holiday season. 
Click here to learn even more about the LivePure Blade Tower Fan. Don't forget to use code

GIFTFAN

for 20% off.